A documentary presented at the "Ciné-DOC Tbilisi" – International Documentary Film Festival. Interview to the director and the protagonist.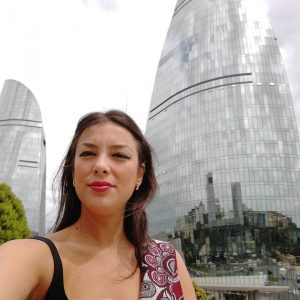 by Claudia Palazzo
The international documentary festival "CinéDOC Tbilisi" is an yearly kermesse that brings together documentaries from all over the world.
This year, 2019, the "Ciné-DOC" was held in the mild spring of the second week of May, between the 8th and the 13th.
The films were displayed between the cinema Amirani and the National Archive Cinema.
The rich and diverse program was dived into thematic subsection, according to the topic of the movie. The sections were entitled: "Filmmaker in Focus, Unconditional Love, Beyond Faith, Red Soul, Our Planet and Us, A Place We Call Home, Family Portraits, Aftermath of Conflict, Eternally Young, All That Matters To Me, Erotic Dox", and "Adaptation".
In the large variety of documentaries, one among the others, individually, especially caught my attention.
Its title is "Tbilisi to Tennesse", by the director Daniel Washington.
While browsing the festival's brochure, I noticed among the descriptions the frame of a guy, in his cowboy hat. "Shota, a Georgian musician, dreams to go to Nashville, homeland of the genre he plays: country music" reported, more or less, the summary.
Shota, "the only country singer in Georgia", it said.
I grew curious, all the more so, because Shota Adamashvili, I realized, was a guy I knew.
The story goes back to my first days in the wonderful Tbilisi.
In the wonder of the traveler, but at the same time in the quiet exploratory mode of one about to settle there, I was hanging around the city. Walking and walking, more or less talking, looking at unknown faces, I ended up in a place where a concert was held. It was Shota's. I was tired. My feet were hurting and fascination and uncertainty shook me. I sat quietly and listened to the concert. Shota started to sing Johnny Cash… I took it as a sincere welcome.
In the following days, I started to consider that night as one of those moments which I would have cherished in my memories, as the day Tbilisi welcomed me, making me feel at home.
Already some months had passed from then, when I attended the Ciné-DOC.
I entered the screening room where the film "Tbilisi to Tennessee" would have been projected. Among the public, I saw the protagonist. "Shota, is that you? The guy who played Johnny Cash?!?"
It was him. I scheduled an interview with him and the doc's director for later, and sat to watch the movie.
Let's say some words about it. Cutting it short: I liked it.
I am no hipster. I don't like long, silent, slightly moving, slightly out of focus framing of little daisies, coffee cups, or ashtrays. I don't like melancholic repetitive electronic melodies played by thin, weak, fragile, depressed teen Djs. I despise the "new school" in all of its possible, debilitating, aspects.
Despite my personal idiosyncrasies, the "new school" is what is currently trending in all arts, and I must admit, not all the "new" art is rubbish.
So I was ready to endure some contemporary art, in order to pay homage to my "welcome concert" in Tbilisi.
Surprisingly, no blurred daisies, no long silences, no overexposed, shiny ashtrays. It was a documentary, which looked like a documentary. There was content, it made sense! It was conveying a story, it was intelligible, and the aesthetic was sober and enjoyable, and it was informative too!
Basically it showed Shota playing, explaining things, talking, plus some shot from his concerts around Europe. Without rhetoric, without manipulation, the audience was naturally engaged by Shota's struggle, his art, his obstacles, his dreams – against the backdrop of the beautiful Georgian natural landscape and peaceful interiors.
I was very admired and enthusiast! A good, concise, documentary, accounting an interesting story, the one of a guy who just wants to play his music and strives to change his life.
That's why when smoking outside, after the screening, with the movie's director, I was almost laughing my head off when he told me: "you know, I would change many things, if I could do it again now". "In which terms?", I asked. "There was too much talking, too much dialogues; and maybe I didn't succeed to engage the audience emotionally, by concentrating a little bit more on the atmosphere. Perhaps my style was a little bit dated back then."
I tried to be as cold as possible, when I reassured him it wasn't.
"You know, maybe it's your perception as a practitioner in the field. But I, as an average spectator, can
promise you, your doc's style was truly admirable."
After the tense of the screening was gone, Shota, Daniel and me sat comfortably in a nice cafe and they've been so nice to answer to all my curiosities about the movie. I will here report you the interview I had with them.
Daniel, how did you get the idea to shot this doc?
 I was working on a doc, which is now still in progress – some "bar series" around the world. So, I had the camera here.
We generally knew Shota and thought it could be nice to interview him. But when we had the interview with him, we kept forgetting about the bar series…
 The Dive bar (Tbilisi) is like an American bar. The interview with Shota was keeping going to other stories… I tried to keep going back but then… we went outside, playing… and what really struck me was that… well I don't mean to exaggerate here, but it was probably one of the most memorable night of my life.
We were just sitting there, in the winter of Tbilisi, with a fire on the street and having Shota playing his music… it was really beautiful and authentic stuff. I remember having an audio recording of a song, which is actually one of the song in the movie, "Sad Man", I thought it as a country classic but Shota said that he had just written it!
So I could hear he was so talented, but he was just sitting outside, playing with me, and nobody else was coming, so I said I have to make a movie about this, fuck the bar!
 Shota:
Well, it started because for the bar series interview, I had to speak about my experience in playing in that bar… so it naturally came out to be a long conversation, where I started to express my views, in general, my music, my life…
Daniel:
And, after all, the bar series is whatever it feels natural to say…
Shota:
And I'm not the kind of redneck type cowboy who gets drunk and plays beer-pong and starts hitting on girls…
 Daniel:
Yes…no beer-pong, trucks and pick-ups… it was very authentic – he was genuine and coming from a real place…
 Shota:
I don't drink so much, so some of my friends mock me: "Oh, you country singers should drink a lot of Jack Daniels and smoke Marlboro!"… but what can I do! I don't drink!
          2.  How funny. So, Shota, tell me, who is your favorite country singer?
 It's hard to name one, but I'd say some of the greatest influence came from Willie Nelson, from Hank Williams Sr….
And what about the Jr. and the III?
Even more than his dad and grandpa!
Also, Dwidght Yokam, from the 80's cow-punk movement – kind of crazy period – George Strait, who his considered to be the king of country but almost never wrote a song, but he had a great voice!
Blake Shelton, who was a really mainstream country guy, he has even done the judge on "The Voice" (a TV program), Chris Stapleton who even did a duo with Justin Timberlake…
So, you see, some of the pop country or mainstream country guys, I still admire them, I don't black and white it because… I just listen to what I like! Some people hate pop country – but, yeah, there are some cheesy lines… but to me… cheesiness does not always translate into "what kind of words you say". You might say "you are my everything" but it depends on how you deliver it…
Well… this is about country music… do you think it is universal or do you think it is (must be considered) narrow to some particular historical or geographical context?
 Well, there's definitely some traces all around the world, maybe not each country, but still, there is at least some small underground subculture everywhere… what I saw in Europe… mostly is some shallow things of this crazy western… cowboy boots… trucks and lassos… and guns! …but some of them are from Sweden, some British artist are good ones.
I saw also some crazy copies of Keith Urban on country music meeting in Berlin this year, but when it comes to the "universality" there's a few countries except for the US – maybe Canada, Ireland because some of the roots of country music comes from there – mostly English speaking countries: Australia, New Zealand a little bit, but when it comes to appreciation of country music US has no competitors around the world, especially business-wise
.…and what about the philosophy?
 When it comes to philosophy, I think it's quite universal.
There are so many life stories about love and breakups, there's God, a lot of God there… and then there is also another part of country music: a darker side, that accounts stories like killings, or dirty country songs about sex, "titties and beer", there's Rodney Carrington comedy-country, there's bunch of different types of country music.
         4.  In the documentary, you mentioned a collaboration with Italian artists, can you tell me more about it?
Nice! I was living in Poland and I met this guys, Paolo Cavalaglio, in an open-mic event. He was playing with a friend of mine and I noticed he played some country melody on the violin. So I joined, and after that, we formed a band together, it was called "Dirty Shoes"! We played until I left Krakow, where I was doing an EVS [European Voluntary Service, an opportunity to volunteer abroad for youth coming from EU countries and ENP (European Neighbourhood Policy) countries] and after one year he came over here and we played here in Georgia!
We played also in the Lithuanian Visagino Country Festival, in acoustic trio, eventually. But when we first have been called there by the manager, I didn't get the visa. She had already booked our tickets, but we couldn't go. I reimbursed her the money she spent for us, and she respected this gesture, so… she called us back again! And in the while, the visa-free regime was established between Georgia nad the Eu countries… so we just had to put the band back together! …We were so confused…! Paolo came over to Tbilisi for a week or something, and we rehearsed… and then we finally played at the festival!So our band back there represented two countries: Italy and Georgia! Paolo played such a big part in this, and I'm so grateful!
    5.  In some shot from the Visagino concert, you sing "America in my Heart"… how was the lyrics? "country music in my soul and America in my heart"…
Do you know how wonderful it is that you remember the lyrics?!? it's something you worry about: do people get it, do people listen to the lyrics? I mean I heard this many times, but a first time audience …
That means yes… it's a big relief for me!
…so why? What does it mean that America's in your heart?
 Well, it means that it doesn't matter how much you guys block me on the visa, I still have country music in my soul and America in my heart.. I carry it with me. This is the kind of America I have with me, not Walmart, but the music, the nature… No matter if I am there or not, I still carry country music in my soul and America in my heart!
 So what hurdles you to get there is the Visa?
 Yes.
6.  A last question: are you satisfied with your skills?
Very often I'm not. I know I got a long way to go, especially in songwriting, but more and more people are enjoying my music. Now, a country culture is still lacking here, so, as some guys told me, it's just that they like "how it sounds". But at least, there is increasing understanding and opening towards this genre, and more and more people are able to understand the lyrics in English too.
 7.   Daniel, would you like to add something?
Well, in the process of filming this documentary, a lot changed also for me, in regards to this music. As an American, I was prone to some "stereotyping" of the country music, musicians and audience. But actually I understood I had no idea of what really country music was, what we have in our imaginery is a caricature of country!
I saw some purity, some real soul of this genre, also going around in European festivals, and Shota was genuine, no weird impersonation…
8.   Thanks guys! Shota has to go now, he has a gig, so let's say goodbye with a song…
"A little too late" by Toby Keith!
YOU CAN FIND SHOTA'S SONGS HERE:
 With his band "Wieldshield":
Windshield – "Right there with you": https://www.youtube.com/watch?v=upizs7HG15s&fbclid=IwAR1mm5RW30GD-uDyh3QAuQELImZJWuTpyQ3y7aPwgNf1C38pcWGtr-HULAI
Windshield – "Ballad of a sad man": https://www.youtube.com/watch?v=6L0Xt-ZMaUs&fbclid=IwAR1DHr4WyQ6OdzaEPzk_0xtIvNVGk5c7eTqGVvQmBaXWaNq87E6BVTDp6DY
Windshield – "Outlaw Prayer": https://www.youtube.com/watch?v=7QtNLrGrLsY&fbclid=IwAR384xo4SYjU944rS3fvIF2Ww8EmMc0u10CI23hUfc0207WzQgT5P-9lA88
Windshield feat. Miken – "Try Me": https://www.youtube.com/watch?v=WZsm6gu0_0k&fbclid=IwAR3l3-EOgNteBr5qjU7K4Mln1AI2dCQgeyXjRdUi5LMSPNpXCf3If6_tKyQ
Solo:
Shota Adamashvili – "Last Call": https://www.youtube.com/watch?v=n1VJfhhXdXI&fbclid=IwAR2LF2tOd28xBYV4_oFVlKhQBuyUGN1IcQUQn0cONTpEXVeToyY3FaTje1g
Shota Adamashvili – "Travelling Brother Blues": https://www.youtube.com/watch?v=SIICRNG5GLs&fbclid=IwAR3ZhMbrImbFj7O-ZFIbbrah57k1ey81kSswQrreIoeXlroKtOIZSQ7INFA
SHOTA on Soundcloud: https://soundcloud.com/shoterson/sets/shota-adamashvili-live-in-tbilisi?fbclid=IwAR3HAbXPs5QaSXrO53Lx948T4MZg7hA6Myj12k3E-lhlpY7ZCs9QFILjdHI
ABOUT THE DIRECTOR DANIEL WASHINGTON:
With the lessons learned from his background as the assistant to directors like Denis Villeneuve and Francis Lawrence, as well as the actress Jennifer Lawrence, emerging director Daniel Washington has begun branching out into his true passion: nonfiction filmmaking. Alongside documenting the complex search for lost Stalin-era mass graves in the Republic of Georgia, Daniel has directed numerous shorts and commercials that have taken him around the world.
https://www.imdb.com/name/nm9807926/?fbclid=IwAR0paCkFsbbBLHj3PlVXIzDo5uuIuwCiw1t1Fl7e-WDVHLgGmkzHuiLOKi8